juicyfishtaco.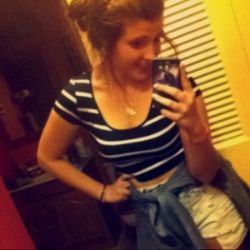 I'm one-third passion, but I'm two-thirds pride.
kelly. los angeles. 19. ravenclaw.
the future is here and it's horrible

#embarrassing baby photos of the future robotic rulers of the planet
(Source: pierregrassou, via missgela)
Went from comedic to real as fuck in like 2 seconds
(Source: friggindweeb, via missgela)
Bonsai Tree Houses by Takanori Aiba
(Source: fem-arts, via officialfishestrella)
"What doesn't kill you gives you EXP."
(via
running-in-a-storm
)
(via ruinedchildhood)
I fell into a role on a sci-fi show, Supernatural, several years ago and quickly learned that the fan base for the show was incredibly active, enthusiastic, and devoted. They write fiction, create tons of artwork, build virtual communities online, and spend a lot of time and money traveling to fan conventions. When the earthquake struck Haiti a few years ago, I set up a donation page for UNICEF and posted the URL on my twitter feed. In twenty-four hours, more than $30,000 had been raised. I put two and two together and realized that I might be in a position to mobilize some of this creative energy to benevolent ends, and then set up a nonprofit with the help of the fans. The organization has grown beyond the Supernatural fanbase over the past couple of years. Now we have partnerships with other nonprofit and for-profit organizations (including a Nascar team, which is pretty badass), and we have pulled off some projects that I'm very proud of.
(Source: supernaturaldaily, via thekingisdeadlonglivetheking)
No one ever said babies weren't cute. 

Seal, Fawn, Owl, Pigglet, Fox-pup, Sloth, Polar bear cub, Bunny and dolphin. (young babies)
(via avenge-gallifrey)
(via braveheartbecky)
I want to be someone's favorite person to talk to.
(Source: via-slimshady, via hotboyproblems)
GUYS YOU HAVE NO IDEA HOW WONDERFUL THIS IS 

Parkinson's is a degenerative disease and while it's progress can be slowed down, it currently doesn't have a cure. People suffering from Parkinson's will experience a gradual loss of coordination and ability to perform even the most basic of every day tasks, including feeding themselves. 

This fucking spoon is HUGEfor them. Look at that gif of the man just trying to eat with the regular spoon and compare it to the liftware device. It's NOT just a spoon, by the way, it comes with a fork as well, for example. 

I found the website for the project where you can purchase a spoon for someone you know/love and even possibly donate money to help someone out who can't afford it themselves right: HERE.

At the very least, please spread this for all the people who have Parkinson's or loved ones with Parkinson's. 

You'll help them take part of their life back. 

ahhhh this is so ace!!!

Totally DOPE! If it helps them do something that makes life more normal for them, the least I can do is signal boost this.

I wish I could afford this for my godfather with Parkinson's 😞 his birthday is today and that would be so perf for him
(Source: 4gifs, via officialfishestrella)
(Source: fecloras, via best-of-tumblr)